Season 2 Episodes
The Hardy Boys and Nancy Drew Meet Dracula
The second season premiere featured the first-time team-up between the Hardy Boys and Nancy Drew. Their partnership gets off to a shaky start when both the boys and Nancy try to get possession of the hotel room where Fenton Hardy is supposed to be staying. (Mr. Hardy has once again disappeared.) When they finally confront each other, Nancy uses judo to flip Frank onto his back on the floor. To her surprise, he gets up and continues to press the confrontation.

This is an enjoyable episode. The tension with Nancy adds opportunities for amusing byplay by Parker and Shaun, and Paul Williams does a great turn as an egotistical rock star doing a concert in Dracula's castle. Frank experiences his usual allergic reaction to Joe's singing and leaves the scene as soon as little brother gets on stage - giving him the chance to do some extra sleuthing.

This is one of two episodes in which Parker sings: Frank, Joe and the band they've joined (led by Elton John collaborator Bernie Taupin) pass the time driving across Europe by singing "Ob-La-Di-Ob-La-Da."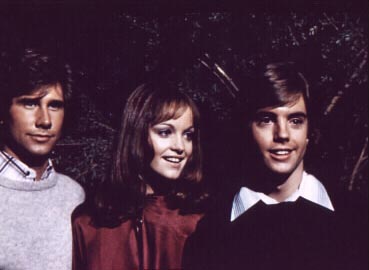 Parker is reunited with his "Our Time" co-star Pamela Sue Martin when Nancy Drew (reluctantly) teams up with the Hardy Boys in Transylvania.
The Mystery of King Tut's Tomb
For reasons never quite made clear, Frank and Joe are carrying ten thousand dollars to their father in Africa. While in Cairo, they become entangled with Helene and Wendy, a pair of American girls who are trying to out-con the conmen who cheated Helene's father out of thousands of dollars for fake antiquities. The boys are uncharacteristically short on chivalry in this episode before their inevitable decision to help the girls. (At one point Frank threatens knock out all of Helene's teeth.) Overall, this is a fun episode, with a lot of good lines and a twisty plot.
Buy The Mystery of King Tut's Tomb from Amazon.com!
The Mystery of the African Safari
Buy Mystery of the African Safari from Amazon.com!
The Mystery of the Hollywood Phantom
Back on American soil again, the boys run into Nancy Drew at the LA airport. All three are on their way to a Detectives Convention, and Nancy has run afoul of a large cowboy who thinks she was trying to steal from his luggage. It turns out that he too is a detective, and is the first to receive a photograph of himself that has been cut in half with a threat printed on the back. Once the convention starts, the detectives begin disappearing, and the trail leads to the Universal Studios backlot, where guest appearances are made by such notables as Dennis Weaver and Jaclyn Smith.
The Creatures Who Came On Sunday
The Strange Fate of Flight 608
Acapulco Spies
Buy Acapulco Spies from Amazon.com!
The Mystery of the Silent Scream
Oh Say Can You Sing
The House on Possessed Hill
Sole Survivor
This episode opens with Joe being injured in a car accident in Hong Kong and waking up in a hospital, where he is told he's been in a coma for a year and his brother and father are dead. A US government agent comes to talk to him, trying to find out if Frank and Fenton were killed by a double-crossing agent they were working with, and Joe tells him everything he can remember about their plan to meet a defector - information so out of date now that it could harm no one. Of course, the whole situation is a set-up, and Joe starts to figure things out even before a student nurse comes to his room to tell him the truth.

Meanwhile, Frank and Fenton believe Joe is dead, but are continuing with their original mission: meeting the defector who is (of course) an old friend of Fenton's. Joe has to escape before his captors can use the information he gave them to kidnap the defector and really kill his family.

Parker has very little to do as Frank besides be very sad and determined. My favorite scene from this one is when he confesses to his father that after Joe had told him that Stavlin hadn't cast a reflection in the mirror (during the "Dracula" episode in Transylvania), he had teased Joe mercilessly for three months about it.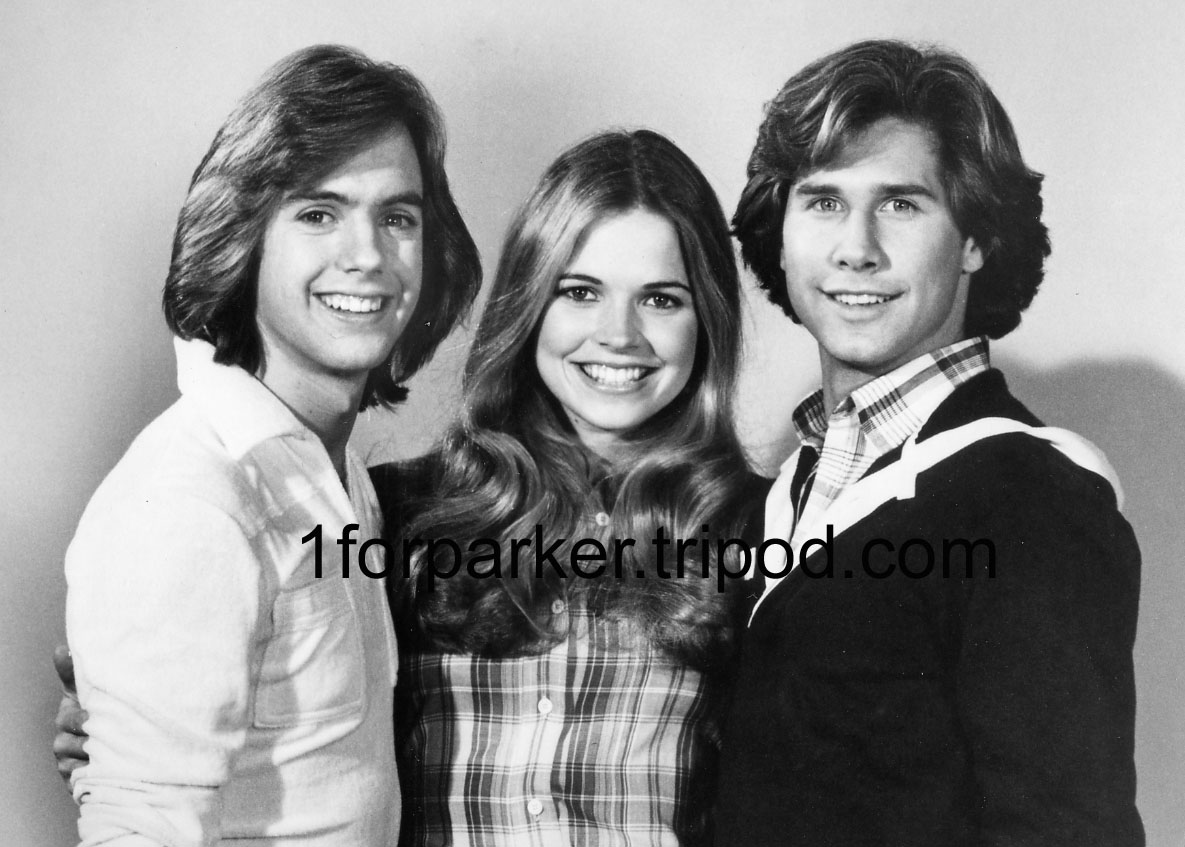 Janet Louise Johnson took over the role of Nancy Drew in the episode "Voodoo Doll."
Voodoo Doll
Mystery on the Avalanche Express
Death Surf
The episode begins with Frank windsurfing and then failing to save a lovely girl who falls off her board and doesn't come to the surface again. He is understandably upset by this, but his grief becomes an obsession when her estranged father asks him and Joe to investigate her life. He ends up falling in love with a girl he knows only from a few moments of eye contact, a videotape of her singing, and the memories of her friends. Of course, it turns out that she's not really dead.

My guess is that less than 1 percent of the original viewing audience recognized the plot as being based on Otto Preminger's classic film noir "Laura," in which a hard-boiled detective falls in love with the portrait of a murder victim.
Arson and Old Lace
Campus Terror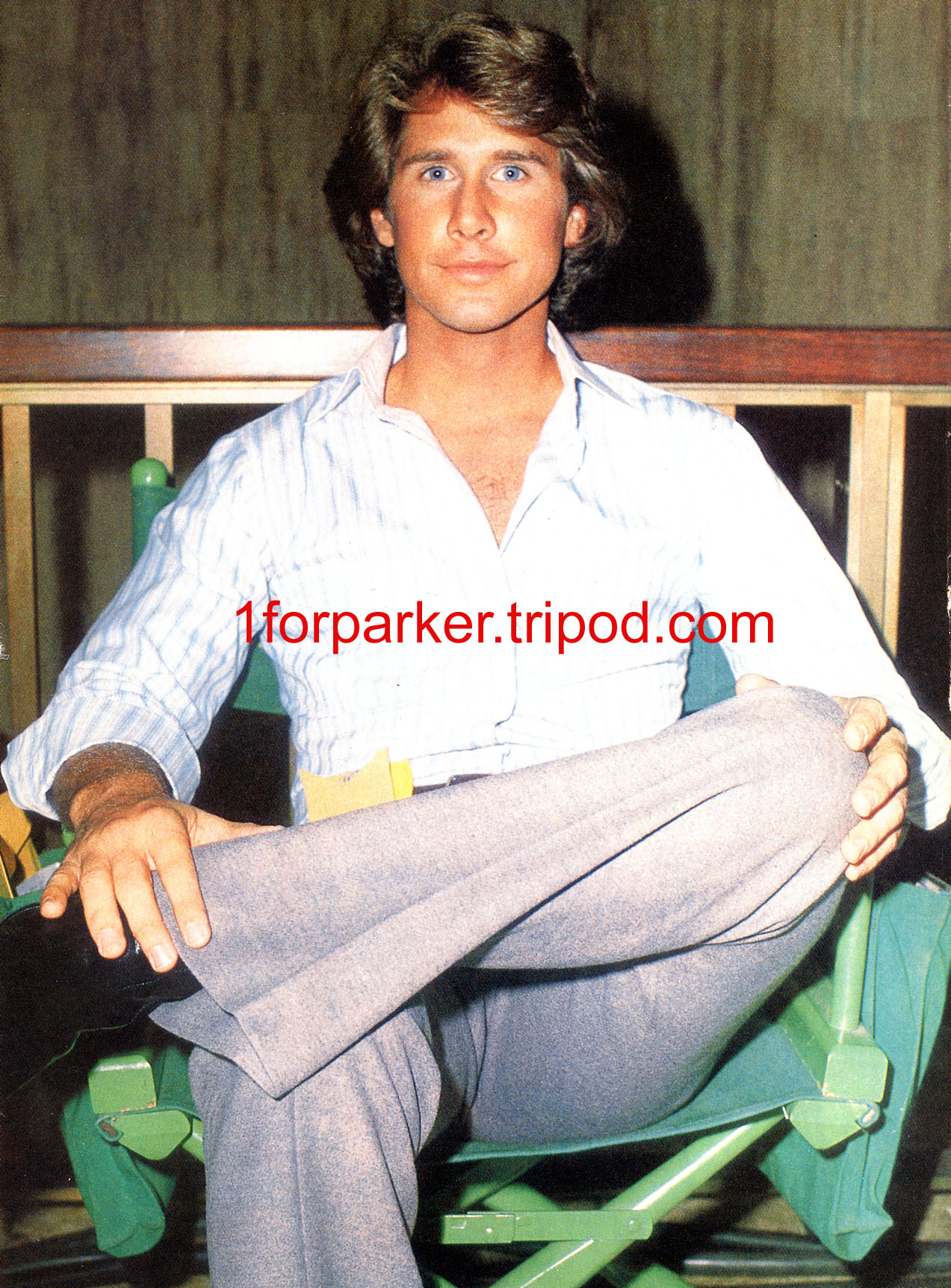 Parker relaxes between takes.
Note the outer pocket on the side of his chair for holding his script.
The yellow flaps poking up from his lap suggest that he was working on "Mystery of the Hollywood Phantom," since the participants at the Detectives Conference all wore badges throughout the episode.