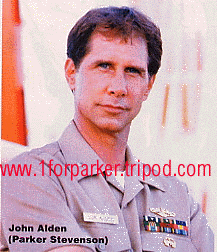 Avalon: Beyond the Abyss (1999)
Parker produced and starred in this made-for-television movie that he hoped would turn out to be a series pilot. Cmdr. John Alden is in charge of the Abyss Institute, an oceanographic research center. When an island in the Gulf of Mexico mysteriously implodes, he and his team are assigned to find out what happened. The answers lie beyond the realm of science, in the ancient myths of the region. The ocean becomes a meeting point for multiple worlds, and the residents of the alien world may or may not be friendly - or familiar.

The shooting of "Avalon" involved several unusual elements, including the full cooperation of the Navy and the involvement of the USS Kellie Chouest (appearing as itself in the film), the use of Hi-definition cameras for the underwater shots, and extended use of CGI, enabling Parker to have a scene with himself in triplicate.

Alden is one of Parker's best roles: he's intelligent, courageous and an excellent leader, but he has some sharp edges that add interest to the character.

Parker on "Avalon"
". . . 'I wanted to take the technology that you see on the Discovery Channel, all the deep sea exploration that's so fantastic, and fashion a dramatic format around that as an arena.'

"And to the criticism that underwater sequences can sometimes be tedious, Stevenson. . . replies: 'It depends on how you shoot them. If you're doing slow pass-bys of guys on scooters like in Thunderball, that would get a little boring. [We had to decide] what the dramatic structure for this was. Had we created tension? If you're really doing underwater stuff, there's a clock because you're running out of air. If you go deep you get the bends, or you have to contend with the currents. So it has its own built-in clock ticking, which is the format in any dramatic show - what has to get resolved by a certain time?'
". . . . 'I like to think Contact was a good prototype for us, because in Contact Jodie Foster ends up somewhere else and has this experience, and yet when you end the film what it comes down to is: did it happen or didn't it? Did she hit her head or not? Wasthat just a sensation she had of flashbacks and memories or did she really go there? Both are theoretically credible, and it's the audience's choice to make up their mind. That's what makes it interesting."
". . . . Perhaps the most natural casting in the movie is that of Meghan Heaney-Grier who portrays Alyssa Meade, Alden's right-hand woman. Meghan holds the US underwater freediving record - with a single breath of air, she plunged to the depth of 165 feet and then returned to the surface. . . . Although an expert diver, one scene Heaney-Grier performed. . . was fraught with difficulties, as Stevenson reports. 'Shooting Meghan 50 feet down, playing passed out, with a 30 million dollar remotely-operated vehicle from the surface coming in to pick her up without crushing her arms was not easy."
". . . . With the challenging shoot behind him, Stevenson admits: 'A thousand things could have gone wrong on this film, any one of which would have destroyed the show. But this has been one of those movies which had a momentum of its own, and I think a lot of the production values are going to be astounding. The last 15 minutes of the film is all CGI. We can't go down 3,000 feet and shoot underwater, not with a Hollywood crew, so that's all being done with computer graphics and it's stuff that audiences have never seen before."
-- "Beyond the Sea" Interview by Judy Sloane
in Xpose Magazine (Issue 40)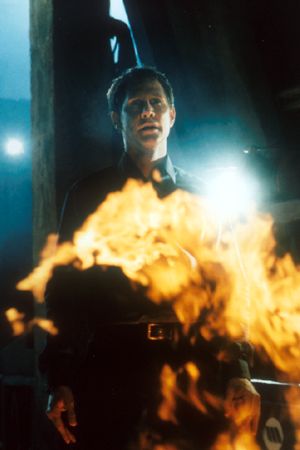 Trapped (2001)
In the USA movie Trapped, Parker plays Oliver Sloan, owner of Sloan's Hollywood Casino in Las Vegas. The hotel is celebrating its grand re-opening, but it's shadowed by rumors of financial troubles and fixed boxing matches. Sloan's life isn't made any easier by his tension with his teenage daughter Tiffany, whom he frequently neglects because of his work. Things suddenly get a lot worse when an arsonist strikes, and not only starts a fire, but disables the alarm system and phone lines to the upper floors, trapping Sloan, his daughter, and a dozen others thirty floors up.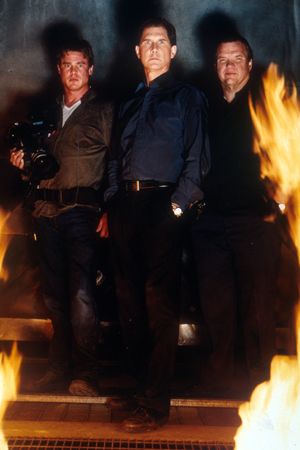 Parker gives an excellent performance in "Trapped" - but because his character is very guarded and in-control, he isn't given the option of displaying a lot of range of emotion. Because Sloan is the owner of the hotel, he's in charge of the group, and he maintains a fierce control over his own fear and anger. But Parker manages to allow the glimpses of what's beneath to come through, so Sloan is never simply wooden or remote. That self-control for almost two hours makes his last scene before the survivors escape all the more powerful, as he finally lets out all his emotions in a single act that enables those in his charge to survive. The triumph on his face as he realizes he's succeeded is wonderful. And it's probably the most heroic scene Parker has ever played.