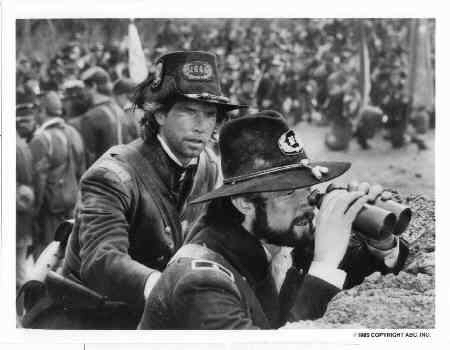 North and South, Book II
(1986)
Parker took over the character of Billy Hazzard in the second "North and South" mini-series. He spends most of his time in a Union Army uniform, and much of that in battle.

N&SII has one of Parker's most romantic moments. After going AWOL after Gettysburg, Billy walks south to be reunited with his wife Brett (Genie Francis), who is living with her family on their plantation. He finds her in the barn and slowly sinks down to his knees, puts his arms around her waist, and simply clings to her while she holds him. (I wish I had a picture!)
Parker has one scene with then-wife Kirstie Alley, who plays his fierce and unconventional sister Virgilia. They meet by accident in a restaurant, and after Billy takes his leave Virgilia's escort remarks that at least one member of her family is capable of civility towards her. The scene seems a little contrived, as if the producers expected audiences to want to see Parker and Kirstie together.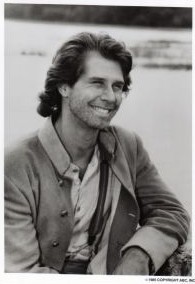 Buy North and South Book II from Amazon.com!
For More Great Photos of Parker in N&S II Click the Links Below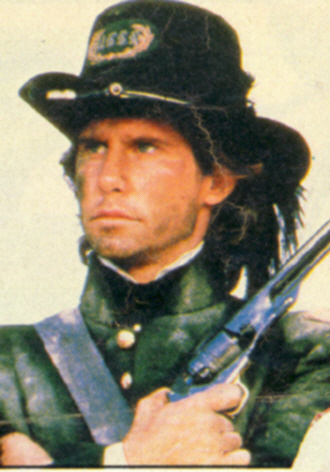 All the Rivers Run II
(1990)
This is the continuation of an Australian mini-series, and it's one of Parker's best roles. He plays Cyrus James, an American conman in 1903 Australia who is caught up in the life of a family who live and work on a river boat. He falls in love with Delie, the wife and mother, and when her husband is unjustly imprisoned, then presumed dead, he does his best to help her and her children.
The character of Cyrus survives by his wits and charm, which makes it an ideal fit for Parker. But there's also a great scene in which Cyrus finds himself required to participate in an illegal boxing match. Stripped to the waist, taking and giving a lot of solid blows against a somewhat larger man, he gives a credible accounting of himself.

In the romance department, Cyrus makes no secret of his feelings for Delie, but he doesn't push her to respond. He does everything he can for her, offering his help as a free gift. He's something of a scoundrel, but he has a heart of gold underneath.